Last week, the Erasmus+ project "Making Future Education Accessible" (MaFEA) partners held a LTT3 workshop at Tartu VOCO to summarise the activities so far in partner schools in Finland, Belgium, the Netherlands, Portugal and Estonia.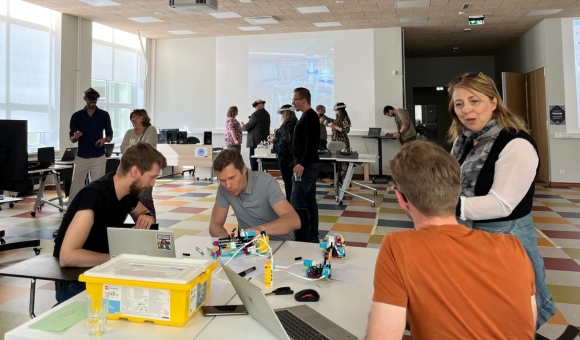 Teachers presented the ways in which they have used new technologies in teaching, and demonstrated the teaching materials and lesson plans they have created. "All the partner schools can test and integrate software solutions such as Zappar and Thinglink into their teaching, or use tools for teaching  like Lego Spike or augmented and virtual reality devices," said Anu Tintera, educational technologist, to give examples of new educational technology possibilities. All the teaching materials and lesson plans will be available on the mafea.eu website created by the project. 
To give VOCO teachers an overview of the new solutions and possibilities, the MaFEA project team organised a workshop on Thursday 11 May.  Interested teachers were able to take a closer look, try out and test the possibilities. "Technology is a tool, but before it can be used in the classroom, teachers need to get to be familiar with it and, in most cases, create suitable teaching materials themselves," said Anu Tintera.
For example, VOCO logistics and warehousing teacher Anni Lepisk used Thinglink to create teaching materials for warehouse workers. Now students can visit the warehouse virtually and explore what's inside. Of course, the questions and explanations for students are incorporated. In order to create such teaching material, the teacher took 360 camera pictures of the warehouse of the partner company, created and added learning tasks to the programme. See more: https://www.thinglink.com/video/1708434059039867684
Next semester, VOCO teachers will have Lego Spike Prime kits at their disposal to teach  robotics as well as programming and to take the first steps to operate robots. VOCO will  also explore the possibilities of using Pico Neo virtual reality spectacles for teaching.  
The MaFEA seminar also showcased good examples that are in use in Estonia. A visit was made to Futuclass, a company which specialises in the creation of curriculum-aligned STEM lessons  in virtual reality. Now they have created the first vocational skills app to learn how to assemble furniture. Partners also visited the Palamuse Museum, where they could use augmented reality to follow in the footsteps of characters from Oskar Luts' novel Spring.
Kaire Mets
Project manager